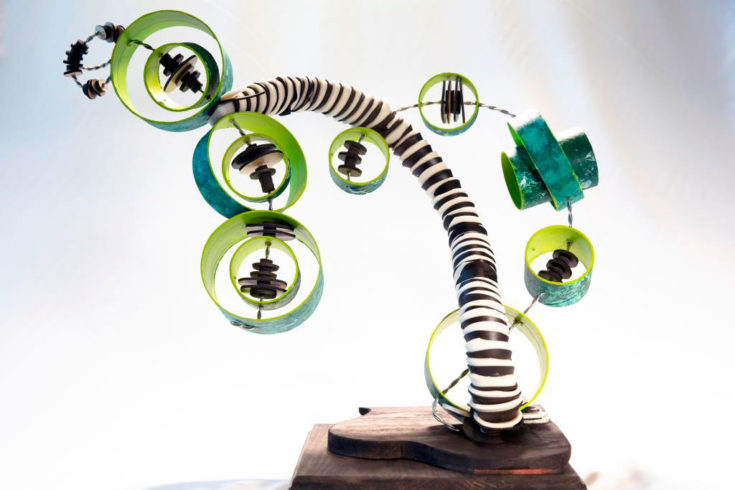 $6,100.00
raised this year
---
In an effort to raise awareness of and support for the Al Larson Prairie Center for the Arts and the manufacturing and technology communities in and around Schaumburg, the Prairie Center Arts Foundation is planning its 4th annual Building STEAM fundraising event. Area manufacturers and tech companies each donate a box of parts – everything from auto, appliance and electronic parts to scrap metal and plastics – to be re-purposed to create sculptures that will be auctioned off at the event.
Participating artists include a team of students from each of several area high schools, for a total of approximately a dozen sculptures. Each team is randomly assigned one of the donated boxes, and has five weeks to create the sculpture. Guidelines are set to restrict the size of each sculpture, as well as the additional allowable materials that may be used in each completed project. Rubrics are provided to establish criteria for the creation and judging of the projects.
Building STEAM will feature food and drink, unveiling of the sculptures, award presentation, and live auction. Students and their families will also have an opportunity to meet with manufacturers and technology companies to explore the wealth of emerging career opportunities in these fields. Attendees will have a chance to get up close to the sculptures and the students who created them, and hear about the obstacles and challenges they overcame while creating their works of art.
One of the hallmarks of STEM is innovation. Innovation and creativity go hand in hand. The Prairie Center Arts Foundation sees this event as an opportunity to bridge STEM to STEAM. With the support of our partners, this free event benefits all participants, and sets an example for other organizations to partner and collaborate across multiple sectors.